Nutrition is the fuel with which we power our every thought and action. With an understanding of key nutrients, we can harness this energy source and begin making it work in our favor. Previously we have explored the foundational benefits of hemp protein in our diets but, to better understand food as fuel, we must consider the role of fiber as well.
What Is Fiber?
Dietary fiber, also known as roughage or bulk, includes all of the parts of plant foods that your body can't digest or absorb. Unlike other food components, such as proteins, fats, or carbohydrates – which your body breaks down and absorbs – fiber passes relatively in tact through your stomach, small intestine, colon, and out of your body.
While the fiber passes through your body, it serves a number of critical functions. Dietary fiber slows the absorption of sugar, helping to improve blood sugar levels and stabilize energy levels. It lowers the levels of low-density lipoprotein (LDL), or "bad" cholesterol, in the blood stream, helping to reduce blood pressure and inflammation. It also aids in digestion and helps to normalize bowel movements.
High-fiber meals tend to have fewer calories for the same volume of food. Additionally, foods high in fiber require more chewing time, giving your body time to register when you're no longer hungry and also helping to ensure that you are not taking in excess calories. When we consume excess calories, they are stored in the body as glycogen and fat, to be used as energy at a later time. As the surplus of calories grows, it becomes increasingly difficult to burn them off, creating an imbalance in the body. To find balance, you must do one of two things: create a deficit of calories in your diet or burn them off with increased physical exercise. Fortunately, with the proper amount of fiber in your diet, it is far easier to find balance. Fiber helps us take in fewer calories, absorb fewer calories from what we do take in, and aids in flushing out much of the excess!
What About Hemp Seed?
Hemp seed is both a tasty and effective way to add fiber to your diet. Hemp seed, like hemp protein, is considered a superfood because of its balance of protein, fiber, and wide range of nutrients. Three tablespoons of hulled hemp seeds gives you 10 grams (g) of protein, 3g of fiber, and 10g of essential (omega-6 and omega-3) fatty acids.
Because it contains all 9 essential amino acids, hemp seed is a complete source of protein. Additionally, hemp seed contains the essential fatty acids (omega-6 and omega-3) in the optimal 3-to-1 ratio, reducing the risk for heart attack, cardiovascular problems, dementia, atherosclerosis, and certain types of cancer.
Hemp seed also contains vitamin E, thiamin, riboflavin, phosphorus, potassium, magnesium, calcium, iron, sodium, zinc, and copper, making it fairly balanced in its macronutrient profile.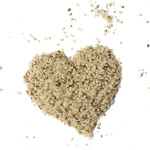 Hemp seed is nutrient dense and contains high levels of protein and fiber, making it the ideal ingredient for someone just starting their journey to healthy living, or for someone looking to optimize their already clean diet.
How Can Hemp Seed Be Utilized?
The best thing about hemp seeds is that they are incredibly easy to incorporate into your diet. We've deemed them nature's power sprinkles because they are small, pack a punch of nutrition, and can be added to a wide variety of meals to improve overall health.
They can be eaten by the handful as a snack, sprinkled on cereals, salads or yogurt, incorporated into power drinks and smoothies, added on top of fruits or vegetables or also used in any type of dressing, sauce or marinade.
How Much Fiber Do You Need?
The Institute of Medicine, which provides science-based advice on matters of medicine and health, gives the following daily recommendation for adults:
Men (50 or Younger): 38g




Men (51 or Older): 30g




Women (50 or Younger): 25g




Women (51 or Older): 21g
Realhemp Hulled Hemp Seed
So, what is the best way to add protein, fiber, and essential fatty acids to your diet? Realhemp™ Hulled Hemp Seeds are called a super food for a reason. Realhemp™ Hulled Hemp Seeds are the inner meat (nut) of the hemp seed and contain about 40% protein and 30% oil and have a soft texture with a mild nutty flavor.  They are highly nutritious packing a complete protein with all nine essential amino acids, high fiber, and a rich source of polyunsaturated essential fatty acids featuring a perfect 3:1 ratio of Omega-6 to Omega-3.
Process: No heat or chemicals are used to process Realhemp™ Hulled Hemp Seeds.
Three tablespoons of Realhemp™ Hulled Hemp Seeds (30g) provide 10g of protein, 3g of fiber, 10g of polyunsaturated essential fatty acids, 600mg Gamma Linolenic Acid and zero trans fat. They are free from gluten, cholesterol, nuts, sodium and lactose.  They feature a perfect 3:1 ratio of Omega-6 to Omega-3, an essential requirement for peak nutrition and are also a source of the rare Gamma Linolenic Acid (GLA), an essential fatty acid not naturally produced by the body. The best part? Realhemp™ Hulled Hemp Seeds are extremely easy to incorporate into a daily food regimen!