It's easy to become disconnected with the nutrients in our food, focusing solely on texture, flavor, and the immediate satisfaction that those qualities bring. However, with a bit of mindfulness, we can soon realize the full potential of food: to act as a natural medicine, a source of health and wellbeing that is beyond compare. We've already examined the quality of protein and fiber offered by hemp and the numerous health benefits they bring us, but the bounty does not end there. In fact, some of the most powerful benefits of the hemp plant are unlocked by its lesser-known nutrients, especially its essential fatty acids.
What Are Essential Fatty Acids?
Nutritionists refer to omega-3 and omega-6 fatty acids as "essential fats" because the human body needs them for many functions, yet it cannot produce them on its own. Though these fats work to build and maintain healthy cells throughout the body, our only source for them is food.
Omega-6 mostly comes from plant oils such as corn oil, soybean oil, sunflower oil, and from nuts and seeds. Omega-3 comes primarily from fatty fish such as salmon, mackerel, and tuna, as well as from walnuts and flaxseed. These fatty acids are thought to provide a wide range of health benefits, including lowering the risk of heart disease, improving cholesterol, preventing certain types of cancer, preventing arthritis, and maintaining and improving brain and nerve function. Some studies even suggest that these essential fatty acids help protect against depression and age-related brain decline such as Alzheimer's disease. Because of its benefits, The American Heart Association recommends that at least 5% to 10% of food calories come from fatty acids.
What About Hemp Seed Oil?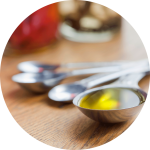 Hemp seed oil proves a simple and effective way to add essential fatty acids to your diet. Researchers posit that omega-6s compete with omega-3s in the body, so the ratio of these two forms of polyunsaturated fats is very important. Hemp seed oil, however, contains both of these fatty acids in the ideal three-to-one ratio that matches our nutritional needs.
One serving of hemp seed oil also contains 10% of the recommended daily allowance Vitamin E, a vitamin that dissolves in fat and also serves a wide variety of purposes in the body. Vitamin E is used to prevent diseases of the heart and blood vessels, prevent cancer, treat diabetes and its complications, treat diseases of the brain and nervous system, and is sometimes used to improve physical endurance and improve muscle strength.
Vitamin E is also taken orally or applied to the skin to treat many skin disorders, including dry skin, aging skin, stretch marks, and sunburns!
How Can Hemp Seed Oil Be Utilized?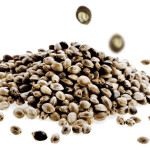 Since hemp seed oil is an extract of hemp seed, the most common way to consume hemp seed oil is by adding hemp seed to meals. Hemp seed can be eaten by the handful as a snack, sprinkled on cereals, salads or yogurt, incorporated into power drinks and smoothies, added on top of fruits or vegetables or used in any type of dressing, sauce or marinade.
But hemp seed oil is not just a dietary boon. As more research is being done on hemp, new and improved applications for the plant and its extracts seem to emerge. Perhaps the most promising application is its use in skin care products. The same essential fatty acids which supplement our diet also have incredible healing effects on the skin, helping to alleviate dry skin, wrinkles, minor skin abrasions, acne, eczema, and psoriasis. The nutrients in hemp seed oil have also been found to heal acne scars reduce stretch marks when applied directly the skin.
Realhemp Hemp Seed Oil
So, how can you add hemp seed oil to your life? Realhemp™ has you covered.
Realhemp™ Hulled Hemp Seeds are a convenient and delicious way to enjoy all the nutritional benefits that nature has to provide.
Realhemp™ Hulled Hemp Seeds are the inner meat (nut) of the hemp seed and contain about 40% protein and 30% oil and have a soft texture with a mild nutty flavor.  They are highly nutritious packing a complete protein with all nine essential amino acids together with a rich source of polyunsaturated essential fatty acids featuring a perfect 3:1 ratio of Omega-6 to Omega-3. Three tablespoons of Realhemp™ Hulled Hemp Seeds (30g) provide 10g of protein, 10g of polyunsaturated essential fatty acids, 600mg Gamma Linolenic Acid and zero trans fat. They are free from gluten, cholesterol, nuts, sodium and lactose.
Process: No heat or chemicals are used to process Realhemp™ Hulled Hemp Seeds.
Realhemp™ Body Care products cover all bases, from skin slaves to delicate lip moisturizers and hand liniment.
Realhemp™ Skin Salves are Artfully crafted with only the finest natural ingredients from around the world—these body creams are made with nutrient-rich hemp oil and the perfect combination of vitamins and healthy fatty acids work together to penetrate into the deep layers of your skin to hydrate and heal… just like nature intended.
When your lips need an extra helping of nutrition, our Realhemp™ Lip Balms have been formulated with a higher percentage of oils to better absorb into dry, rough and badly chapped lips. Made with vitamin-rich hemp oil combined with the healing powers of olive and grapeseed oil. This hemp based lip balm will refresh lips in a snap.
Realhemp™ Hand Liniment is an incredible, all-natural cure for dry hands, harnessing nature's most powerful workers, honey bees, to provide the ultra-healing properties of honey and hemp seed oil. Made with vitamin-rich hemp oil and Fair Trade shea butter, dry skin is no match for our carefully crafted formula.