It helps the hemp campaign in the US when it involves a well known person using their fame to help promote a product or service. Who else would you add to the list?
9

American vegan and Tour de France rider David Zabriskie makes history by becoming the only vegan to ride the gruelling cycling race. His secret is a special brand of vegan energy shake, which amongst other things, contains large amounts of Whole Toasted Hemp Seeds. – Source…
8

Australia's Lara Bingle was in Los Angeles "parading her physique". At the end of her exercise jaunt she took a trip to a "healthy food bar where she picked up a smoothie and some Hemp superfood". – Source…
7

Amie Valpone, HHC, AADP is the Editor-in-Chief of www.TheHealthyApple.com; she is a Manhattan Celebrity Chef who came up with this healthy alternative to the McDonald's Shamrock Shake., Culinary Nutritionist, Professional Recipe Developer and Food Photographer. Amie's first cookbook on 'Clean Eating and Detox' will come out in Spring of 2016. – Source…
6

Gwyneth Paltrow talks often about hemp and its benefits. She usually recommends hemp milk over dairy milk, especially in her cookbooks. Source…
5

Dr Oz, Oprah's favorite doctor, has been known to like a little hemp seed now and then. Check out this article in the Dr. Oz Blog "3 Reasons Why You Should Say Hello to Hemp This Summer" Source…
4

Oprah herself! Yes that's right. Hemp Seeds made it into her "Top 6 Superfoods that will change the way you eat" list. Source…
3

Hemp and  Superfood Manufacturer Nutiva teamed up with a couple musicians and have produced this catchy little number called "Hemp Can Save the World". – Watch the video….
2

One of the world's best big air Skateboarder, Bob Burnquist, talks about Hemp Protein and Hemp Oil. He blends it all up with some Acai berries. He says it gives him all the major energy he needs to skate. "None of that fake stuff" he says… "The fake stuff does not give you wings". – Watch the video….
1

Taking out number one is Woody Harrelson. He is the king of Industrial Hemp Celebrity Activism. Woody appeared in the movie Hempsters, Woody also starred in a change the world documentary called "Go Further". In it, he drives a hemp fueled bus across America promoting responsible, healthy living.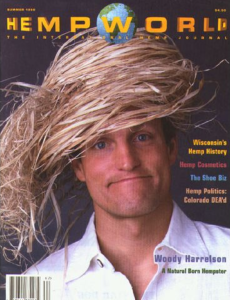 Woody promotes hemp whenever and where ever possible and was arrested for challenging America's outdated Industrial Hemp laws.
---
Bonus: Another movie that is generating quite a storm on the hemp front is "Bringing it Home" It follows a man on his quest to find the healthiest, non-toxic building material available. Be sure to check this informative hemp documentary out as well.

---
Visit Stevia Corp.'s Website
Visit Stevia Corp. on Facebook
Visit Realhemp's Website
Visit Realhemp on Facebook